EXTERIORS!! Its that time of year….Good prep, great paint and dry weather, that's the formula for a long lasting exterior paint job.
And this beautiful historic house in East Moreland…its owner has taken care of this house for 50 years and is committed to its preservation.  It only made sense to hand brush the entire house.  This made sure all areas got a solid 2 coats of paint, including the 62 divided sashes, all functional wood windows restored over the years by Amy McAuley of Oculus Fine Carpentry Inc.—This paint job will last a good long time.  By investing in good paint jobs such as ours, it also has the benefit of reducing the amount of paint layers that get built up over time and the need to eventually burn it all off or reside/reshingle.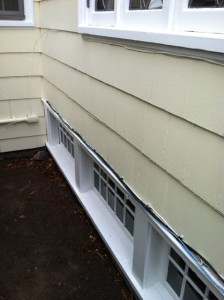 A bungalow in NE Portland…after and before!  This one was hand-brushed.  Hand-brushing is beautiful and more sustainable than spraying.  Spraying can land 40-60% of your paint in the atmosphere!  So instead of 10 gallons of paint you only use 5 gallons, and they go on the house!;)
Hand-brushing is not cost effective for every job.  But I love to make it an option for my clients, and  on this old homes with a lot of detail it can often be a smart way to go.
Aaaaaahnother bungalow…lots of prep and window glazing and hand-brushed by your truly.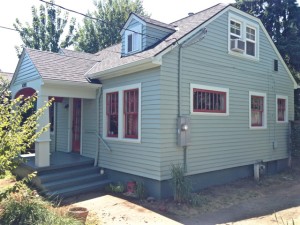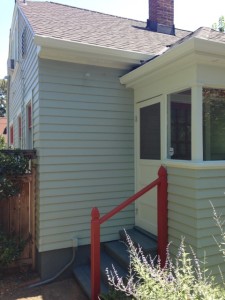 This was a beautiful transformation.  The client had a strong vision and the basic design in mind and together we worked on just the right shade for siding and those pretty pink-salmon eves.  The black sashes took it back to its historic roots and the whole house felt like it was back 'to the house it should have always been'.  Love that.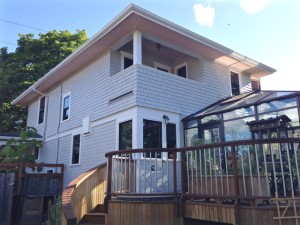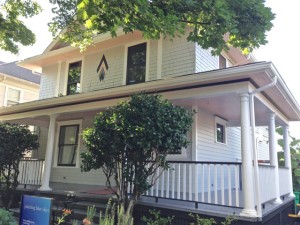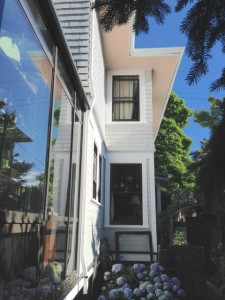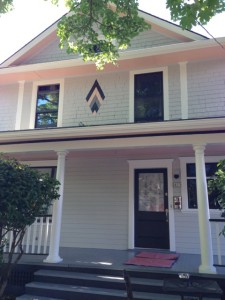 before…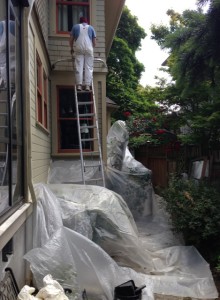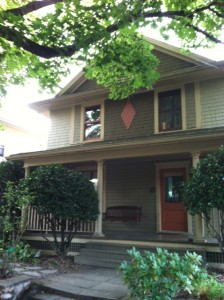 Here some projects I did over the years.  Some are over 10years old and still holding up nicely.
New  homeowners to this classic PDX tudor took down the old wallpaper to the original plaster.  Some patching, priming, fresh ceiling white and a pretty cream color for the walls, done by us, made this into a new 'classic'.  We had the easy job:()
This beautiful bungalow in Irvington was completely updated by the owner with a strong value of classic craftsmanship combined with modern stylings.  All the old woodwork and walls got a fresh paint job,  kitchen and baths got a remodel.  The client picked out wonderfully vibrant colors for all the rooms.  All the old trim paint got a fresh coat of hand brushed oil, and it shone!  Here a walk-through the remodeled project: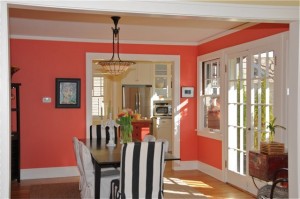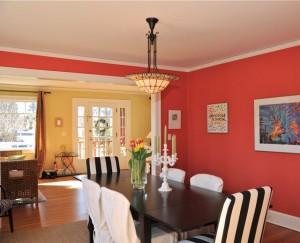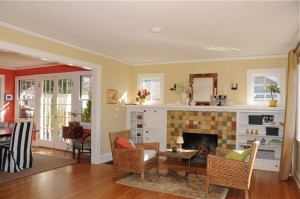 Living and dining room update in this Irvington craftsman home:  The dark stained woodwork had to go! Plus a fresh white ceiling and new wall color…..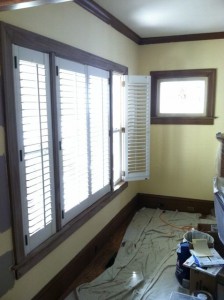 And a few days later:
Enough said really….the 'fabulous Davenports' were thrilled!:)   Another Charlotte Cooney color design success!
The perfect shade of orangey/red for the front door was all we did on this house and wow! It gave the exterior an instant facelift!
Wow!  Old wall paper and woodwork that needed tlc and some new wall colors!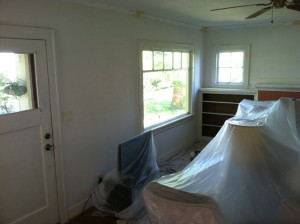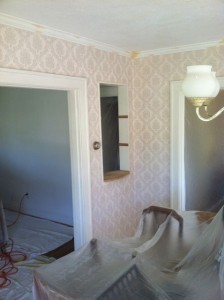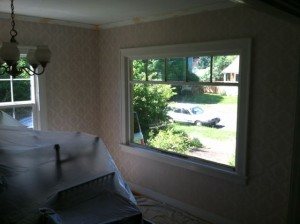 What a change–I love these kinds of projects!  The painting completely transformed this space– great bang for your remodeling buck:)–perfect soft colors made this space warm and inviting.
ah the details…sometimes I get a call to fix a homeowners previous battle with a cut-in line:).  Cutting in a line of black wall paint, up to white trim is not easy!  Plus the sanded/bumpy wall, made it extra super hard to make a brush line flow…..great before and after!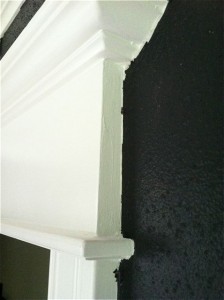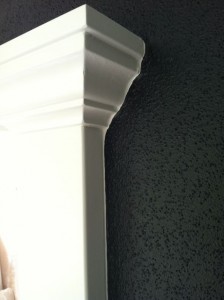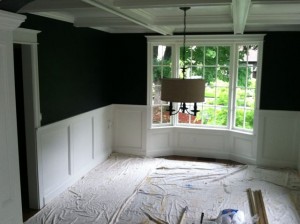 HOW THIS CRAFTSMAN GOT SOME LOVE…
The window sills in this well loved, historic home in Ladd's Addition, had a lot of UV damage from the sun.  So much so, that the finish was no longer protecting the wood.   A full scrape and sand down of the sills and sashes was necessary…
Meanwhile, the dining room walls &office needed an overhaul as well,  to cover up some older stencil design and give the rooms some life.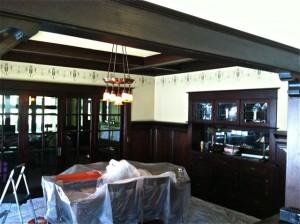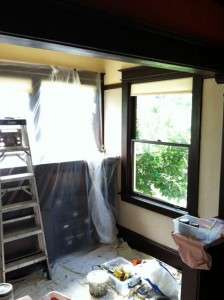 We decided on a beautiful red wall color to bolden up the room and envelope the warm mahogany tones in the woodwork.  The changes are exciting…:)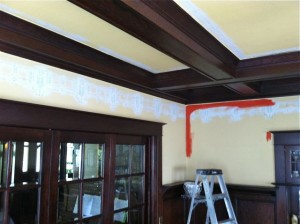 The woodwork got a stain to match the existing one and a couple of hardy UV protecting coats.  It really made the wood shine–It is so satisfying to rejuvenate 100 year old woodwork and give it another generation of use.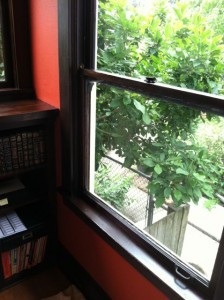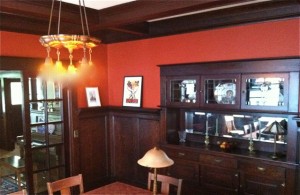 The new red walls turned out pretty nice too and the client was thrilled:)
This exterior needed a good scrape and match to the existing color:
Great color for this little kitchen nook in a Sellwood bungalow!–changing the color managed to set it apart from the kitchen and give it it's own identity.  Before it was just a side note to the kitchen space.  The bold color really worked here.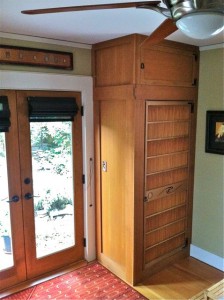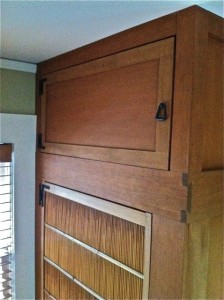 Pretty hand rubbed stain on these japanese inspired built-ins.
I wanted a zero VOC, environmentally friendly product  for a client who has a strong sensitivity to VOC's  (conventional stains and clear coats can fill a living space with really strong odors during application).  A german company OSMO (Green Depot in Portland carries it)  makes a really nice product that gives the wood a beautiful warm and natural looking finish.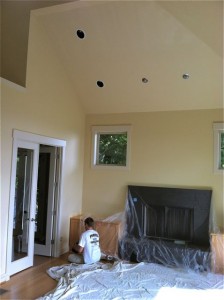 These hight ceilings were a fun challenge,  but Charlotte Cooney of Domestic Arts picked the perfect soft cream color for the walls and made all the hard work pay off beautifully.